A magical menagerie featuring 56 whimsical, hand-carved animals on a restored 1910 Looff carousel, turning to the music of a 1913 Wurlitzer band organ.
Happening at the Carousel
Join Mr. Josh of Beanstalk.com on a special safari as he visits Nederland's own Carousel of Happiness! Thanks to Beanstalk for providing this free, one-hour recorded program for kids ages 3-6. https://vimeo.com/506278475/64d97bc8e9  
Read More
As a young Marine in Vietnam Scott Harrison received a tiny music box that he held to his ear to distract him from the horror of the war going on around him. The music, Chopin's "Tristesse," brought him a peaceful image of a carousel in a mountain meadow. After returning home, he rescued an abandoned Looff carousel in Utah and spent 26 years hand-carving animals to bring it back to life.
Scott had never carved before, but starting with the rabbit that is now on the sign in front of the carousel in Nederland, he went on to create more than 50 one-of-a-kind animals, 35 of which can be ridden. As he was finishing, the small community of Nederland (pop. 1,500) came together and raised the $700,000 to build it a home.
 Help us celebrate our 10th Anniversary and keep the Carousel spinning for many generations to come!
Our shop is full of items sure to intertwine our story with yours. Your purchase helps fund the Carousel, magic and all.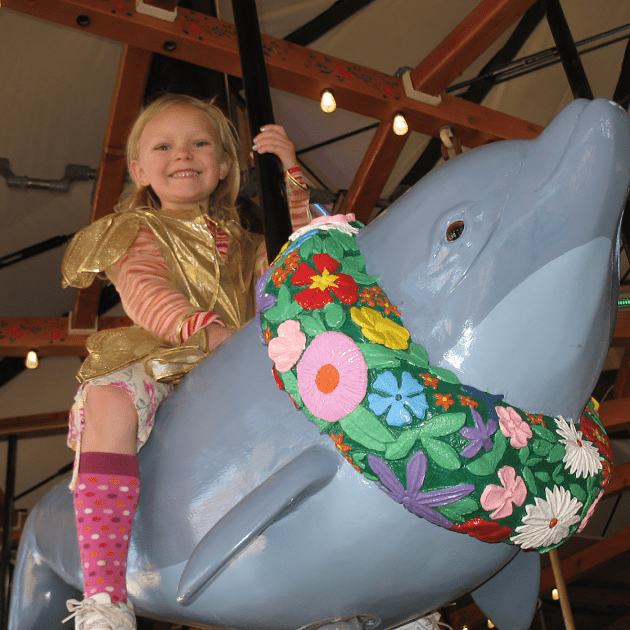 Rent the Carousel outside of regular hours for your small group or party to create special memories for all. 
"This is hands down the most magical place I've ever been. The carousel has such a rich and interesting history and the environment it's been placed in shows just how much love has gone into it."
"A carousel in the middle of a mountain town?! Fun for the kids and an interesting history for the adults. Second time we've stopped in after doing something else in the area..."
"Glad to see history saved. They took great care documenting the history of the carousel and its restoration. If you pass through Nederland, CO, you need to stop and take a ride."
"Beautifully carved animals, an antique Wurlitzer music box and a fun place for kids."